We base our product development on material selection, combinations and improvement.
Our expertise in the properties of materials supports our verticalisation strategy.
We care for the environment by minimising material consumption, reutilising each and every scrap and adopting a sustainable recycling strategy.
Our processes, equipment, and production media are designed to optimise product quality, reliability and efficiency.
We design and build our own equipment to produce our key technologies.
We use the same equipment worldwide to guarantee our clients the same product performance across the globe.
Our products represent the answers to growing market demands for lighter solutions in a combination of materials capable of improving acoustic behaviour, while satisfying the most demanding customers, as well as legislative demands (temperature and fire resistance, not to mention environmental objectives) and integrating more functions inside their structure. The range is vast, since they are installed in very different parts of the vehicle, from the engine and passenger compartment, including trunk and exterior and not to mention novel solutions for chassis in carbon fibres, fulfilling very different missions, but keeping the innovative spirit of the Adler Pelzer Group, in order to ensure customer satisfaction and end user comfort and safety!
These solutions, for premium/ racing cars and aerospace customers, represent our proactive answer to increasing requests in terms of structural, lightweight, aesthetic "carbon looking" applications and functionally integrated parts with production technologies that respond to demands.
Our mission is to provide our customer with a competitive advantage in acoustic component development, using our advanced mathematical methods and detailed understanding of the physics of materials. To reach our scope, we use our self-developed software, which is bringing the most innovative and effective solutions in "acoustic prediction".
Applying our methodologies, we can reduce time-to-market for new programs, improve acoustic comfort, and reduce weight in new and current programs, offering innovative solutions for upcoming new specifications or governmental regulations.
We generate ideas to develop innovations, working within a network of specialists. Universities, research centres, customers and suppliers are our partners in each of our advanced activities.
We pre-develop our innovation and select the highest potential.
We complete development and fully validate our innovative solutions.
We exploit and disseminate our findings to the market.
Materials
Process
CIM
Compounded Injection Moulding
is our own patented process for compounding and injecting a thermoplastic compound into a tool cavity in the easiest, least expensive and fastest way possible. Starting from polymers, additives and fillers used as raw material, we obtain a component. The advantage of this technology to the end user is, that we can manage the best combination with regard to performance and weight. We are able to save many kilograms per component as compared to previous technologies. All the components are fully recyclable.
HMP
Hot Moulding Process
is a process that manages fibrous materials. Flocking the fibres directly onto the form that reproduces our part, we can deliver the fibres exactly where we need them and in the amount required. The result is a component with an homogeneous density even if with a rather thick spread . This result yields the highest acoustic performance at the lowest weight. All HMP components contain a minimum of 80% in weight of recycled materials and can be fully recycled to produce similar or new components.
Composites
Our present composite technology represents APG rationale answers to market requests for a (reasonably) simple production method, capable of serving low-medium volume customers with high performance requests, often with a combined demand for a simple, cost effective, and innovative solution. Today, we employ hand layup pre-preg autoclaves and press technology for high performance complex parts (currently in production) and at the same time, we are beginning to introduce "thermoplastic composites". Our technology approach also involves sophisticated quality controls, in order to ensure that our parts are reliable and their mission is achieved (i.e. non-destructive ultrasonic testing).
Products
We engage in the development of innovative lightweight solutions with improved performance in acoustic and flame retardancy at reduced density, in order to meet the increasing demand for reduction of pass by noise and CO₂ emissions. For the engine compartment, our unique lightweight PUR foam builds the base to achieving these goals.
Motor Encapsulation for ICE and BEV/ NEV
Hood Insulation
Acoustic Heat Shield
Motor Bay Insulation
Engine Under Shield
Insulation Outer Dash
Insulation Outer Tunnel
---
Embodying the spatial separation of engine and passenger compartment, the dash inner places an ambivalent challenge in the engineering of the required automotive parts – meaning the alignment of the best acoustic performance at the lowest weight possible and a reasonable cost competitiveness. Thanks to our innovative CIM and HMP technologies we can adapt tailor-made solutions according to our customers needs.
---
Our interior trim parts consist of multilayered composite materials, designed to offer the end user the highest comfort and premium look and feel while meeting the requirements for improved acoustic performance and sound reduction needed in vehicles.
Headliner
Dash Board
Door Panel
---
Our interior insulations for pillars, doors, roof and seats usually come as a sandwich construction with a core heavy layer showing different properties in terms of anti aging, odour control and deepness in shape. The unique formulation for the roof stiffener allows for the substitution of roof deadeners and integration of thinner steel roofs, which has a positive impact on weight reduction of the entire body.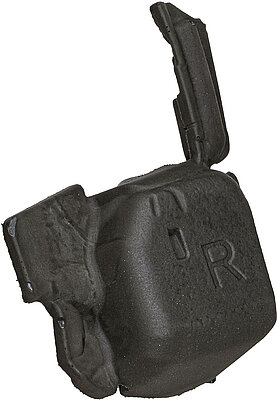 Insulation Pillar
Insulation Door
Door Water Shield
Insulation Headliner
Roof Stiffener
Insulation Under Rear Seats
Insulation Seat Belt Retractor
Acoustic Air Ductt
Encapsulation HVAC
---
Based on our unique HMP technology we are able to produce an integrated floor carpet, with either a dilour or a tufted surface carpet and insulation backing. The combination of improved material (recycling PET and cotton fibres) and process (one step) covers the full LCA of the product, thus making a significant contribution to reduce CO₂ emissions. As a further milestone in the development of sustainable products we offer surface carpets based on biological (renewable) material out of other industries (e.g. the food industry) while maintaining the aspiration for acoustic comfort, odour control and high durability at the same time.
Integrated Floor Carpet
Floor Insulation
Dilour Carpet
Tufted Carpet
Floor Trim
---
The trunk compartment has become an important part of the vehicle, thanks to the developments in SUV vehicles. In this respect, we are combining light weight with optic and acoustic comfort. Light composite, sandwich structures reinforced with glass fibers or recycled carbon fibers, along with the highest quality in surface materials based on recyclable and renewable materials. Our verticalisation approach in materials and processes lead us towards the possibility of offering fully dedicated, platform solutions
Load Floor
Insulation Load Floor
Trunk Carpet
Insulation Trunk Carpet
Integrated Trunk Carpet
Parcel Shelf
Trunk Side Trim
---
Exterior components in the vehicle are functional in the reduction of noise transmission from many external sources including tires, road noise and aerodynamics in the passenger compartment, while also reducing noise transmission from the engine to the external environment. Some also have the function of improving aerodynamic performance, therefore reducing fuel consumption. Our innovative solutions for exterior components are making a significant contribution towards achieving the new challenging objectives of noise reduction set by governments and institutions while also improving passenger comfort and meeting the goals of sustainability.
Wheel Arch Liner Front and Rear
Insulation Wheel House Inner
Underbody Shield
Encapsulation Battery Pack
Damping
Fender Insulation
Acoustics
The mission of our acoustics department is to support the growth of the Adler Pelzer Group by supplying innovative products and services, while providing the following:
Characterisation of materials
Product testing and acoustic fine tuning
Vehicle testing
Development of acoustic tools (procedures, software, simulation packages)
Support is also provided from a perspective of technology, in order to enable the Adler Pelzer Group to profit from the know-how generated and the ideas shared. With our knowledge in acoustics, we are able to provide our customers with acoustic benchmarks and value optimisation packages during the life cycle of vehicles already on the market, when specifically required by clients, or when they want information regarding trends in the market and in technology.
Our mission also includes cooperation with external partners, such as suppliers, research institutions, and customers with regard to diagnosis projects, irrelevant of whether simulation or testing is involved.
A portion of time is also dedicated to the dissemination and the generation of know-how, representing Adler Pelzer in Scientific Congresses related to noise and vibration and contributing to its expertise by improving knowledge in the science of materials, processes and acoustics.
Innovations
A paradigm for the culture and nature of our company is our approach towards innovation and the profitable implementation of our ideas.
These ideas derive from our teams, our partners, and our customers. We are constantly running at a high-speed pace, thanks to our innovative soul, irrespective of where ideas come from or where they aim at (products, processes, services, etc).
Product development and innovation are our entire company concern.
Everyone contributes to generating ideas and focuses on improving products and processes or creating new ones – reducing waste and contributing to a better use of resources, cooperating with the best in their class (in academia, supply park, teams of excellence wherever they can be). We truly engage with our customers in providing them with alternative solutions – often through their own input – while aiming at creating value, also starting from novel material concepts and using innovative, tested tools. Our guidelines work towards improving comfort in vehicles (via acoustic and thermal management), reducing the weight of the vehicle and increasing its functionality, as well as ad hoc value-added contents, while always paying great attention towards environment and sustainability.